I'm proud to be part of Karma Team: Kulwinder Saini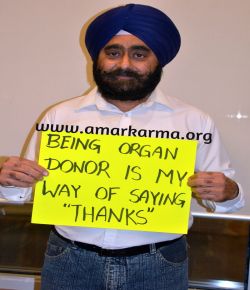 I have always been passionate about organ and tissue donation. I donated blood 14-15 times in Patiala, Chandigarh, Parwanoo (HP) and Dixie Gurdwara Mississauga. But once in 2004, Canadian Blood Camp at Westwood Mall, Mississauga refused to take my blood because they said donor should be living in Canada for at least one year.
Then I started looking for some other kind of social work where I could serve humanity. Then in 2012 I saw on Facebook that "Amar Karma Organ Donation Society" Canada's 1st South Asian Non-Profit Organisation is involved in great cause, bringing awareness in all communities to donate their organs and save other people's lives. I was really impressed by their service, so I joined this enthusiastic volunteer team of Amar Karma and today I am proud to be a volunteer of this team. I am very thankful to them for awarding me with "Volunteer of the year 2014 award". It gave me so much satisfaction and a feeling of joy in my life that even a paid job couldn't. I am very proud of Loveen Kaur Gill who led this society with firm determination and created awareness about organ donation among youngsters and adults in a very short period of time. All 10 members of my family also got motivated for this social cause and immediately decided to register for organ donation.
As we know "Money can be paid off but sympathy can't be paid back"
My son almost lost his vision in his left eye due to Keratoconus and we had to get Cornea Transplant done in 2011 at Toronto Hospital .We are extremely thankful to the donor, even though we don't know who was the donor but he gave my young son his vision and saved his future. I request everyone to register for Amar Karma Organ Donation Society to save more lives