It's a great way to serve humanity: Joginder Ankhila
I am Joginder Ankhila, proud recipient of the award Senior Volunteer of The Year 2013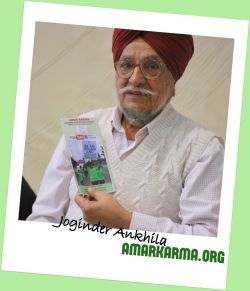 I have my Bechelor of Law from Ranchi University-1968, and Diploma in Materials Management from Punjabi University Patilala -1974. I was referred to Ms. Loveen Kaur Gill, the Captain of Amar Karma, to volunteer through a friend. Being a retired senior, I never wished to sit idle at home, I opted to volunteer my service to the cause of society at large. After meeting the team I felt inspired to work for it and I have been a part of it since November 2011. I have been assigned the work of Materials Management in the Society. As long my health and circumstances permitting I would wish to work for the Amar Karma Organ Donation Society.


---
Volunteering at Amar Karma is Amazing-Harjot Dhindsa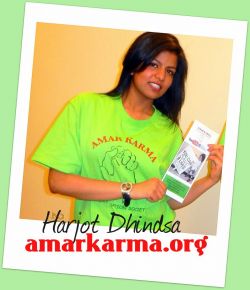 I am Harjot Dhindsa. I am 19 years old, student in Police Foundation. Amar karma means a lot to me! This is the place where I learned how one donor can save up to many lives. I signed up to be donor and joined volunteer team the same day. Volunteering at Amar karma is a different and an amazing experience. It gives me an opportunity to provide hope, balance and consideration to others. Volunteering at Amar karma brought more positivity in my life. To me volunteering is the giving of yourself, your time and talents to help others and make a difference in someone else's life. I think people should be donors because people truly need these life-saving gifts and it's costless to register. Also, we never know when we or our loved one might end up on the waiting list. This is one way that death can represent life.
---
Volunteering with Amar Karma rejuvenates me: Guru Pabla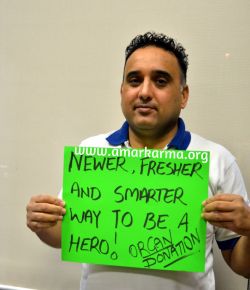 It's been super amazing working with younger generations, seniors and our junior team members who have the same rock solid dedication towards the same goal - awareness about Organ donation. I used to go to drop my son for volunteering with Amar Karma but got so impressed & motivated with the dedication of the Karma team members and the changes in my son's personality after joining Amar Karma and I could not resist myself from being a member of such a great team.
My Definition of life has changed after working with our awesome dedicated team leader Loveen and other great hardworking volunteers. Life for me now means "lives a meaningful life by actually helping others live by promoting organ donation"

---
Amar Karma gave a new meaning to my life: Winnie Pabla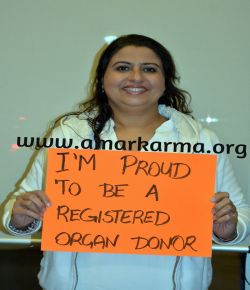 'Amar Karma' as the name itself suggests "let your deeds live forever". I came across this meaningful name Amar karma when I was looking for volunteering options for my son and chose this organization as it is about promoting life. Moreover, I noticed great changes in my son's life, which encouraged me to join the team as well.
After joining the Karma, I feel that it has added a new meaning to my life. Organ donation is important; it's about heroism and saving lives. Now AK is my family and I cannot even think of living without it...

---
I'm proud to be part of Karma Team: Kulwinder Saini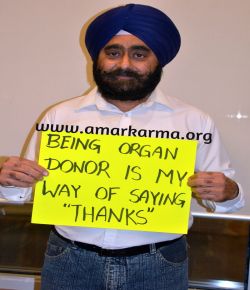 I have always been passionate about organ and tissue donation. I donated blood 14-15 times in Patiala, Chandigarh, Parwanoo (HP) and Dixie Gurdwara Mississauga. But once in 2004, Canadian Blood Camp at Westwood Mall, Mississauga refused to take my blood because they said donor should be living in Canada for at least one year.
Then I started looking for some other kind of social work where I could serve humanity. Then in 2012 I saw on Facebook that "Amar Karma Organ Donation Society" Canada's 1st South Asian Non-Profit Organisation is involved in great cause, bringing awareness in all communities to donate their organs and save other people's lives. I was really impressed by their service, so I joined this enthusiastic volunteer team of Amar Karma and today I am proud to be a volunteer of this team. I am very thankful to them for awarding me with "Volunteer of the year 2014 award". It gave me so much satisfaction and a feeling of joy in my life that even a paid job couldn't. I am very proud of Loveen Kaur Gill who led this society with firm determination and created awareness about organ donation among youngsters and adults in a very short period of time. All 10 members of my family also got motivated for this social cause and immediately decided to register for organ donation.
As we know "Money can be paid off but sympathy can't be paid back"
My son almost lost his vision in his left eye due to Keratoconus and we had to get Cornea Transplant done in 2011 at Toronto Hospital .We are extremely thankful to the donor, even though we don't know who was the donor but he gave my young son his vision and saved his future. I request everyone to register for Amar Karma Organ Donation Society to save more lives
---
Amar Karma to me is about celebrating life: Vipan Marok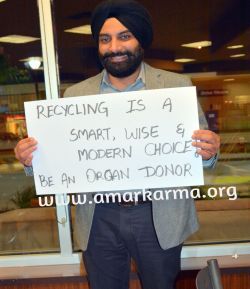 I came across Amar Karma in 2014 when I was looking for options to help out in the community and coincidently this group was then preparing for their 4th annual Give a Heart, I was very impressed by their theme to celebrate Valentine's Day, therefore, I decided to sponsor their event. The more I attended their events, the more I felt as being part of them. I'm running a successful law firm in Brampton, but Amar Karma is as important to me as my own family and I make it a point to not miss anything on it.. We are a close knit group. Lots to learn and celebrate with each other!
---
I'm inseparable from Amar Karma : Manjot Singh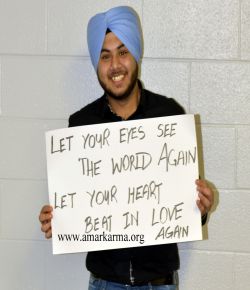 I initially learned about Amar Karma from my family members, and I attended the events randomly when I had time from college. I didn't even realize when it became an inseparable part of me. We have made friendships forever here, and we celebrate togetherness here. It's again all about love and giving back. I'm loving it! Give a Heart, one at a time!
---
It's a mission that chose me over me choosing it- Loveen Kaur Gill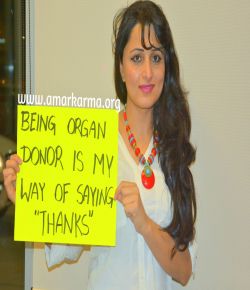 I've volunteered for Amar Karma from 2006 almost a decade now, basically since I conceived it as an idea.
It has become a part of me: my karma, my child and a meaning to my life.
I became a registered organ donor in Vancouver, B.C when I turned 19. When we moved here to Toronto, I re-registered again. But at the time, I never thought so much of it more than just a good thing to do; which was to become my Karma later on.
Volunteering for Amar Karma has made me feel my connection to the entire universe! It's a mission that chose me over me choosing it. I was born for this!!
---
I'm proud to be associated with this noble cause.- Taran Dhillon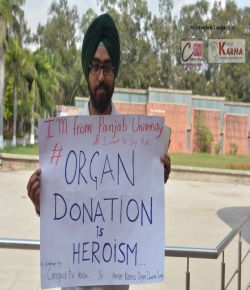 I'm Taran Dhillon ,a student of Russian studies at Panjab University, Chandigarh ,a student journalist at Campus TV Channel , a volunteer Radio jockey at Jyotirgamaya 91.2 FM community Radio of Panjab University and Coordinator for Amar Karma Organ Donation Society at Chandigarh. I am proud to be associated with this noble cause. My goal is to create awareness about organ donation among my University fellows and countrymen and promote this noble cause.
---
I'm proud to be part of it since I was 10 years old -Tanvi Mahindru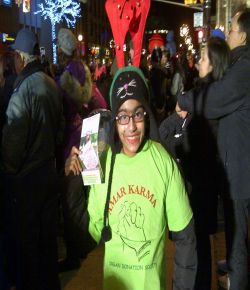 My name is Tanvi Mahindru. I am 15 years old. I have been volunteering with Amar Karma since I was 10 years old and these five years has been an amazing experience. Amar Karma is a place where I learned how important volunteering is and how important organ donation is. During my volunteering experience I met amazing people and learnt many different things that can help me in my future. It's also a place where you can proudly say that I have made a difference in someone's life because I made awareness on organ donation. I think that others should continue joining this organization so that they can feel the same way as I did during my experience with AK. GO AMAR KARMA!!!
---
Amar Karma has changed my personality for good -Aishmit Singh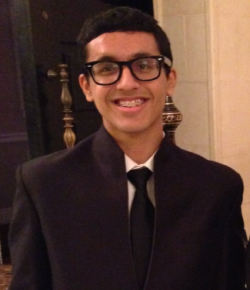 My name is Aishmit and I have been a volunteer with Amar Karma for more than 3 years. I joined Amar Karma through one of our family friends. Initially, it was a small group of volunteers but the passion was tremendous. Slowly, Amar Karma had more than 60 volunteers and there were a lot more waiting to join. I took part in their walks, booths at various places and their annual Give A Heart events.
Amar Karma was a vision of one person, Loveen Kaur Gill, who started Amar Karma as a single volunteer in 2010 as the first South Asian organization to educate people about Organ Donation. Today, Amar Karma has been recognized by a number of politicians. Recently, Amar Karma was launched in BC, Canada and in India.
To me Amar Karma has given a different meaning to my life and has changed my perspective towards it. I have seen the passion and enthusiasm amongst the volunteers. Their cause is different from others; their paths were not easy and getting their message to society even more difficult. They have been working tirelessly to get their message across to the people. I have seen them put in their best to educate others about the sufferings of the people waiting for an organ donor. Some of them have been on the waiting list for years, some lose their lives. It is hard to see these people suffer in the hope of finding someone who might be able to save them. The pain and agony their relatives have to go through, during or after their life ends, is heart touching. Amar Karma has made me realize the importance of life and what we can do to make a change in the society. It is this selfless message from the team of Amar Karma that encouraged me to register as an organ donor when I turned 16. I hope I will be able to change the life of at least one person. This is my chance to be immortal.
Besides, Amar Karma has changed my personality. I have been able to be more vocal in my thoughts and have been able to socialize better. This has happened during the process of trying to talk to unknown people, trying to educate them about organ donation and our organization. I have found new friends and met wonderful people who think beyond themselves and are so passionate about their cause and have a goal in life - to make a difference in someone's life.
I wish Amar Karma the very best and will definitely be a part of it, over the years to come.
---
Every single sign up makes us feel more proud of what we are doing!!- Lashika Katyal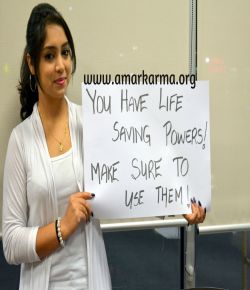 My name is Lashika, I came to this country two years back in 2011. I studied Business Accounting from Sheridan College. Currently, I am working as an Office Manager with a Real Estate Company and pursuing my degree at York University.
Having a desire of being a helping hand to someone is very easy, but doing it actually, needs extra courage, effort and lot of self-motivation. When I got to know about a team of such self-motivated people trying to save lives with their full dedication, I decided to be a part of this organisation - Amar Karma.
Almost around year and half back, I was given a option to attend their meeting. I was so amazed to see the passion, enthusiasm and dedication of all the young and senior members there. Since, that very first day, Amar Karma is like my family to me. Even though the cause we are working for is very serious and takes lot of courage to educate people about it, we as a team, do it.
All our booths, meetings, seminars, walk, events help us getting more and more people who not only understand the cause but also understand the value of being a donor.
Every single sign up makes us feel more proud of what we are doing!!
I thank Amar Karma, the founder Loveen K Gill, and the entire team with my full heart for having me in the team and giving me the option to work for the cause and help the society!!
---
Amar KARMA has become part of my life- Mandy Kaur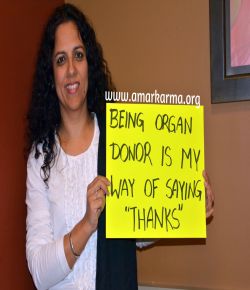 "Go into the world and do well. But more importantly, go into the world and do good."
― Minor Myers

I am Mandy. I have been part of Amar KARMA since 2012. After my husband's death, I wanted to involve myself in something that kept me busy. Socializing was an option for me, but I wanted to make a difference. I wanted to stand out from the crowd. I was not only determined to face all challenges, but also challenge the challenges. As Ralph Waldo Emerson said "The purpose of life is not to be happy. It is to be useful, to be honorable, to be compassionate, to have it to make some difference that you have lived and lived well." With this thought in mind I started volunteering with Amar KARMA. They had a very challenging mission ahead and they were determined. They were treading into a society that would not accept the message easily, but we all wanted to make a difference. The team of Amar KARMA stood beside each other to face the challenges and educate people about the importance of organ donation. Today, Amar KARMA has become part of my life. It is
my passion and will stay with me for a long time. There is nothing more satisfying than the feeling that I have spared some moments of my day, beyond my smaller personal world, trying to bring some change in a bigger one.
We continue to face different challenges but we wont give up and one day we will win!
"Kites rise highest against the wind, not with it." ― Winston S. Churchill
---
Amar Karma to me is a concept in people's life- Shivdeep Cheema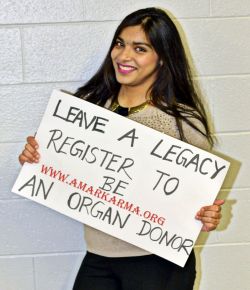 Hi, I am Shivdeep. I am a former police foundation student. I have been associated with Amar karma for over a year. There are lot other volunteer services but Amar karma got my attention because I like the concept of spreading awareness. This foundation makes me passionately want to help people in need and what better of a feeling can anyone get than bring a smile, make a heart beat.
In the name of humanity, BY THE HUMAN FOR THE HUMAN. Amar karma to me is a concept in people's life!
---
I had life-changing experience with Amar Karma -Navraj Kalra
I am Navraj Kalra. I am an 18 year old in school, and my experience with Amar Karma Organ Donation Society has been nothing but extraordinary. The organization has many enjoyable factors that include the people I got to work with and the events we hosted. One the events that I was a part of, the Valentines Dance, was an enjoyable experience. Even before the event itself, every member of the Amar Karma group was warm and welcoming, and we all enjoyed doing various tasks together, big or small. To me, volunteering with an organ donation society was a new and positive experience for me, and helped me understand how other people benefit so much from organizations like Amar Karma. It's been amazing to work with people of all ages, and my outlook on life has completely changed after being a part of this organization. The organization supports a great cause and I would recommend anyone who wants to have a good time and make a positive change to volunteer with this organization. If anyone were to ask me about a life changing experience, I would definitely mention Amar Karma!
---
Feeling so proud to be a part of Amar Karma : Rupinder Kaur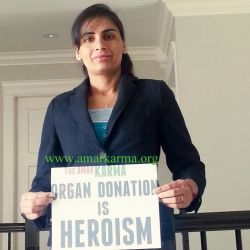 "Amar Karma" a team of so many passionate and enthusiastic volunteers who are determined to aware people about organ donation. In our community people don't talk about this issue but the way Loveen and her team is working toward this soon our community will the biggest part of this great deed as they are in all other fields of donations and giving back to the community. Feeling so proud to be a part of Amar Karma... Be a real Hero.
---
"My father passed away due to kidney failure….-Deepali Kapadiya
"My father passed away due to kidney failure and back then with limited time, resources, and awareness, we as a family couldn't do much. I wish if we knew more then, things would have been different. I started volunteering with Amar Karma, as I really feel connected and don't wish anyone to see their loved one suffer. We, as a team, put together our efforts, and are doing our best to bring awareness in the community. If I am able to save even 1 life volunteering with Amar Karma, I will feel contented."

---
I had a liver transplant 13 years ago- Jazz Gill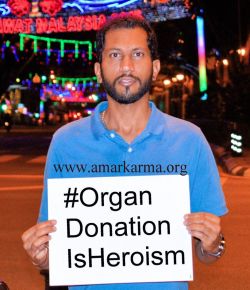 I had a liver transplant 13 years ago in BC and soon as I recovered I started volunteering with BC transplant because I wanted to give something back from the life I've received through Organ Donation. Then I discovered something while working as a Volunteer, the South Asian Community was almost unconscious about the Organ Donation registry and a lot of effort was needed to bring awareness. It was hard doing it alone and trying to convince everyone to be on the same page as I was.
Then, In 2013 I was introduced to Loveen Gill and Amar Karma by my sister-in-law. 2014 we introduced Amar Karma in BC at the Vaisakhi parade, we got a huge response. It was nice to find not only Loveen but a whole group of volunteers who shared the same goal as me...Bringing awareness amongst the South Asian Community.
Everyone at Amar Karma is very supportive and motivating. Everyone is here to help each other and grow more and more every day. There's still a lot of work we have to do by bringing awareness and educating our people about the importance of Organ Donation. "It truly is the most expensive gift you can give someone, that doesn't cost you anything".
---
We, as a team feel so proud to be a part of this great team! (Raman Dua President & CEO Save Max Real Estate inc.)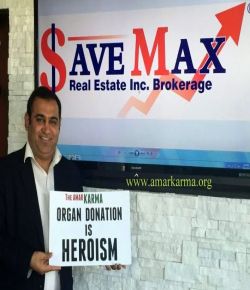 Amar Karma was introduced to me around the end of 2010 when a young, enthusiast and a self-motivated girl, Loveen came to my office. I was so impressed by her thoughts and ideas. That day itself I committed her my full heart support for AMAR KARMA ORGAN DONATION SOCIETY.
I was so overwhelmed that I introduced all my family members to the team and today, my kids are volunteering with this wonderful team of volunteers. I explained my little daughter what a volunteer is and what organ donation is, which probably she could not understand right now being just 8 years old. But i still believe that this will give her a true meaning of life, the true pleasure of life which "giving to others"
Just in few months, the entire team of Save Max Real Estate Inc. was in support of the cause. We make sure to stand by these volunteers in each and every way we can. Amar Karma Team of Volunteers is a wonderful example of great team, right guidance and doing something that needs lot of courage and determination. Amar Karma team work exceptionally hard to spread this great message of ORGAN DONATION. Their events, booths, walks, presentations and everything they do is with so much of passion that leads to delivering the message to masses.
The entire team of Save Max has always supported and attended their annual"Give a Heart" every year. I see more and more number of people there standing there with them to support the cause. One cannot do anything better than trying to "Save a Life."
We, as a team feel so proud to be a part of this great team. And I promise that me and the entire team of Save Max will always support Amar Karma and the cause !!
---
I admire Karma's Give a Heart initiative, and being part of it every year!- Ray Chaney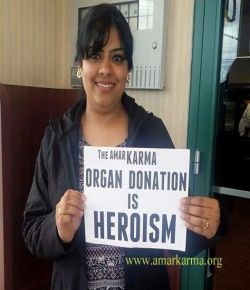 Like we say at Amar Karma that it is a Karma that lives on forever! Organ donation is as important as other subjects which are important to us in our routine. I enjoy being part of Amar Karma's activities especially Give a Heart, holds an enormous meaning. I'm proud participant as well as sponsor of Give a Heart. - Ray Chaney
---