We, as a team feel so proud to be a part of this great team! (Raman Dua President & CEO Save Max Real Estate inc.)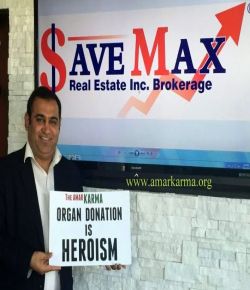 Amar Karma was introduced to me around the end of 2010 when a young, enthusiast and a self-motivated girl, Loveen came to my office. I was so impressed by her thoughts and ideas. That day itself I committed her my full heart support for AMAR KARMA ORGAN DONATION SOCIETY.
I was so overwhelmed that I introduced all my family members to the team and today, my kids are volunteering with this wonderful team of volunteers. I explained my little daughter what a volunteer is and what organ donation is, which probably she could not understand right now being just 8 years old. But i still believe that this will give her a true meaning of life, the true pleasure of life which "giving to others"
Just in few months, the entire team of Save Max Real Estate Inc. was in support of the cause. We make sure to stand by these volunteers in each and every way we can. Amar Karma Team of Volunteers is a wonderful example of great team, right guidance and doing something that needs lot of courage and determination. Amar Karma team work exceptionally hard to spread this great message of ORGAN DONATION. Their events, booths, walks, presentations and everything they do is with so much of passion that leads to delivering the message to masses.
The entire team of Save Max has always supported and attended their annual"Give a Heart" every year. I see more and more number of people there standing there with them to support the cause. One cannot do anything better than trying to "Save a Life."
We, as a team feel so proud to be a part of this great team. And I promise that me and the entire team of Save Max will always support Amar Karma and the cause !!